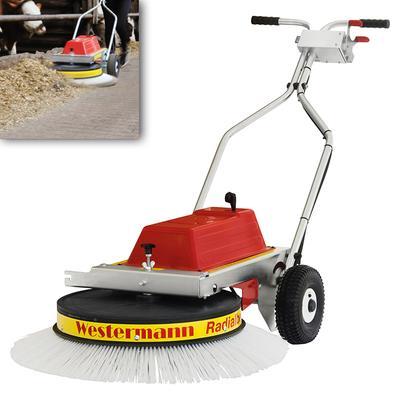 Send this to a friend
Westermann WR870 Battery
Product details
When sweeping using a brush or horizontal sweeper the dirt within the cracks and crevices of the surface cannot be reached. With the new, revolutionary Westermann radial brushes, every crack and corner can be swept clean with just one pass.
GARDEN MAINTENANCE
Perfect for keeping your yard, driveway or animal sheds clean. The quiet battery operation allows you to work in and around animals, as well as in areas with low noise  requirements.
GERMAN ENGINEERING
Manufactured in Germany, the belt driven machine comes complete with a jockey wheel situated underneath the brush that allows you to adjust the height of the bristles, enabling an aggressive or light brushing action. Thanks to the professional design, even on the most aggressive setting, the brush will not cause damage on your hard surface.
KEY FEATURES
• Sweeps animal feed, leaves and snow
• Very easy handling
• Reaches into every corner thanks to the brush angle
• Removes surface dirt
• Near silent function
• Handlebars fold down for storage or transit
• 2.5 hours use per charge
• 870mm diameter brush head
SPECIFICATION

| | |
| --- | --- |
| Country of Manufacture | Germany |
| Battery Type | 12V 66Ah Battery |
| Brush | Polypropylene Brush |
| Brush Drive | 12-V-DC Motor |
| Dimensions | 870mm Working Width |
| Net Weight | 60kg |
| Tyres | Pneumatic Tyres 260/85 with Ball Bearings (Groove Ball Bearings) |
| Battery Life | 2.5 hours per charge |
| Charge Time | 8 hours |

NOTES

Please note that this machine will only work with the Poly brush and not the wire or wire/poly mix brushes.