Dirt Driver Sapphire Hot & Cold Water Pressure Washer
Dirt Driver Sapphire Hot & Cold Water Pressure Washer - Dirt Driver
Dirt Driver Sapphire Hot & Cold Water Pressure Washer - Dirt Driver
---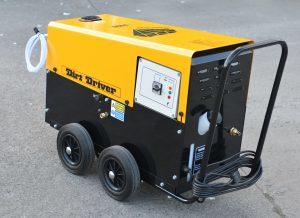 Send this to a friend
Dirt Driver Sapphire Hot & Cold Water Pressure Washer
Product details
The Dirt Driver Sapphire heavy duty hot & cold water pressure washer with its rugged construction can handle all types of industrial and agricultural applications. 
This solid pressure washer has a heavy duty all steel powder coated chassis. With its simple layout, allowing for ease of service and its tried and tested internal components, this makes this a great machine for ease of use and reliability.
We supply the Sapphire with a single phase plug but it also available in 3 phase upon request. 
Each machine comes standard with a pressure hose, trigger and lance assembly and chemical hose.
KEY FEATURES
• High performance 1500 psi pump
• Heavy Duty frame and cover
• 12 l/pm flow rate
• 25L chemical tank
• Adjustable temperature setting
SPECIFICATION

SAPPHIRE


Motor Make

Lafert

Pump Make

Hawk 3 piston ceramic plunger pump

Pressure

1500 psi

Temperature Setting

Adjustable

Flow Rate

12 l/pm

Detergent Storage

25L

Fuel Tank Capacity

20L

Water Tank Capacity

7L

High Pressure Hose Length

30ft

Voltage

230V

Weight

150kg

Box Contents

1 x Sapphire Pressure washer
1 x 30ft pressure hose
1 x lance
1 x nozzle jet
1 x trigger assembly
1 x chemical hose