ATCO GTXE 40H Ride on mower
ATCO GTXE 40H Ride on mower
---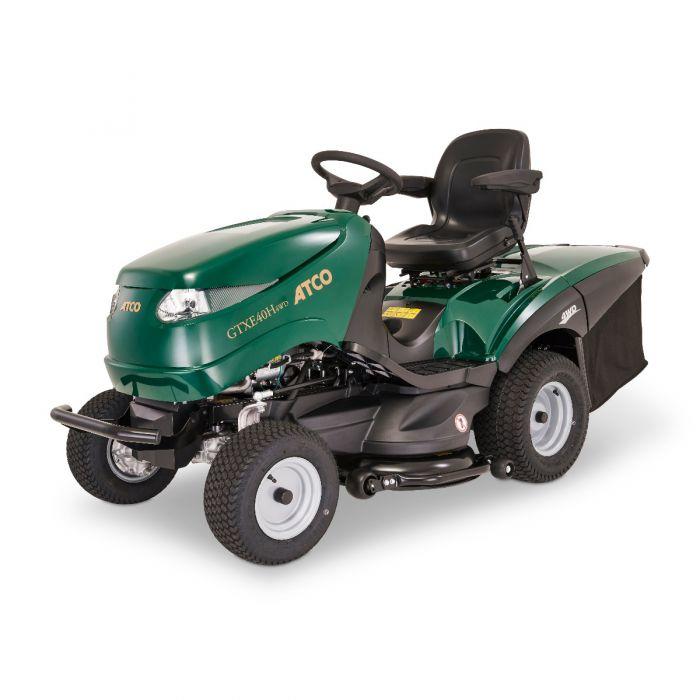 Send this to a friend
ATCO GTXE 40H Ride on mower
Product details
Enjoy top of the range power and performance and cover an expansive area quickly and efficiently with our flagship Premium X range lawn tractor, the GTXE 40H Twin 4WD!

Under the cowling is a Briggs & Stratton Intek™ 8240-Series engine; a high-capacity 724cc motor, which, thanks to its combination of OHV technology with a classic V-Twin cylinder arrangement, offers high torque output with reduced emissions, less vibration and a marked improvement in fuel economy.

The GTXE 40H Twin boasts a four-wheel-drive hydrostatic transmission that provides all-terrain traction and ensures you'll find it easy to work around trees, ornaments and landscaping, thanks to infinitely variable ground speed control. A series of gauge wheels ensure the cutter deck will glide over undulating ground without the edges digging in and damaging the turf; while a six LED dashboard provides accurate, at-a-glance information on critical operating parameters.

Primarily a collecting tractor, the versatile GTXE 40H Twin can also be set-up to either recycle clippings by inserting the included mulch plug; or to rear discharge them by fitting the rear deflector (sold separately).
The contra-rotating twin blades on the GTXE 40H Twin 4WD are timed - this produces finer clippings, which in turn optimises both collection capacity and mulching performance.
Further features include largest in class 508cm drive-wheels that offer the perfect balance between grip and surface gentleness; an electromagnetic PTO clutch for fast, effort-free blade activation; and multi-stage height of cut adjustment (25-100mm) that facilitates the creation of a neat and uniform finish. This model's sizeable 102cm cut and positively cavernous 360-litre collector with electric emptying which allows the user to effortlessly empty clippings at the push of a button make it an excellent match for areas up to 10,000m2 (5 acres).

The GTXE 40H 4WD really is the pinnacle of all collecting garden tractors!

Tow bar and mulching plug included.
Rear deflector available separately.
| | |
| --- | --- |
| ENGINE | |
| Engine Brand | Briggs & Stratton |
| Engine Type | Intek 8240 V-Twin |
| Number of Cylinders | 2 |
| Engine Capacity | 724 cc |
| Max Engine speed | 2400 rpm |
| Net Power Output | 11.67Kw |
| Engine Cooling | Air |
| Power Source | Petrol 4-Stroke |
| | |
| --- | --- |
| TRANSMISSION | |
| Transmission Type | Hydrostatic |
| Traction | Four-wheel drive |
| Transmission Method | Pedal-operated |
| Number of Gears | - |
| Front Wheel Size | 16x6.00-6 |
| Rear Wheel Size | 20x10.00-10 |
| Pivoting Front Axle | Yes |
| | |
| --- | --- |
| CUTTING | |
| Cutting Method | Collecting |
| Uncut Radius | 101 cm |
| Cutting Width | 102 cm |
| Cutting Height Adjustment | Manual with control knob |
| Cutting Height Positions | 9 Positions |
| Cutting Height Range | 25 – 100 mm |
| Blade Engagement Type | Electric |
| Number of Blades | 2 |
| Reverse Mowing | Yes |
| Additional Cutting Method | Mulching, Rear discharge |
| Collector Type | Textile |
| Collector Capacity | 360 L |
| Mulching Kit | Included |
| | |
| --- | --- |
| GENERAL | |
| SKU | 2T1425247/AT9 |
| Model | GTXE 40H Twin 4WD |
| Product Name Description | Collecting Tractor |
| Fuel Tank Capacity | 10 Litres |
| Battery Voltage | 12V |
| Battery Capacity | 22 Ah |
| Seat Type | ATCO Comfort with armrests |
| Steering Wheel | ATCO ergonomic with soft grip |
| Cruise Control | No |
| Headlights | Yes |
| Bumper | Yes |
| Washing Link | Yes |
| Cup Holder | Yes |
| Antiscalp Wheels | 2 |
| Battery Charger | Single-standard |
| Trailer Hitch Kit | Included |
| Safety System | Seat with safety contact breaker |
| Warranty | 5 years Extended (Terms & Conditions apply) |
| Measured sound pressure level at operator ear dB(A) | 84.7 |
| Product Length | 2620mm |
| Product Width | 1055mm |
| Product Height | 1200mm |
| Weight | 290kg |